ASUS ROG STRIX B660-I GAMING WIFI LGA1700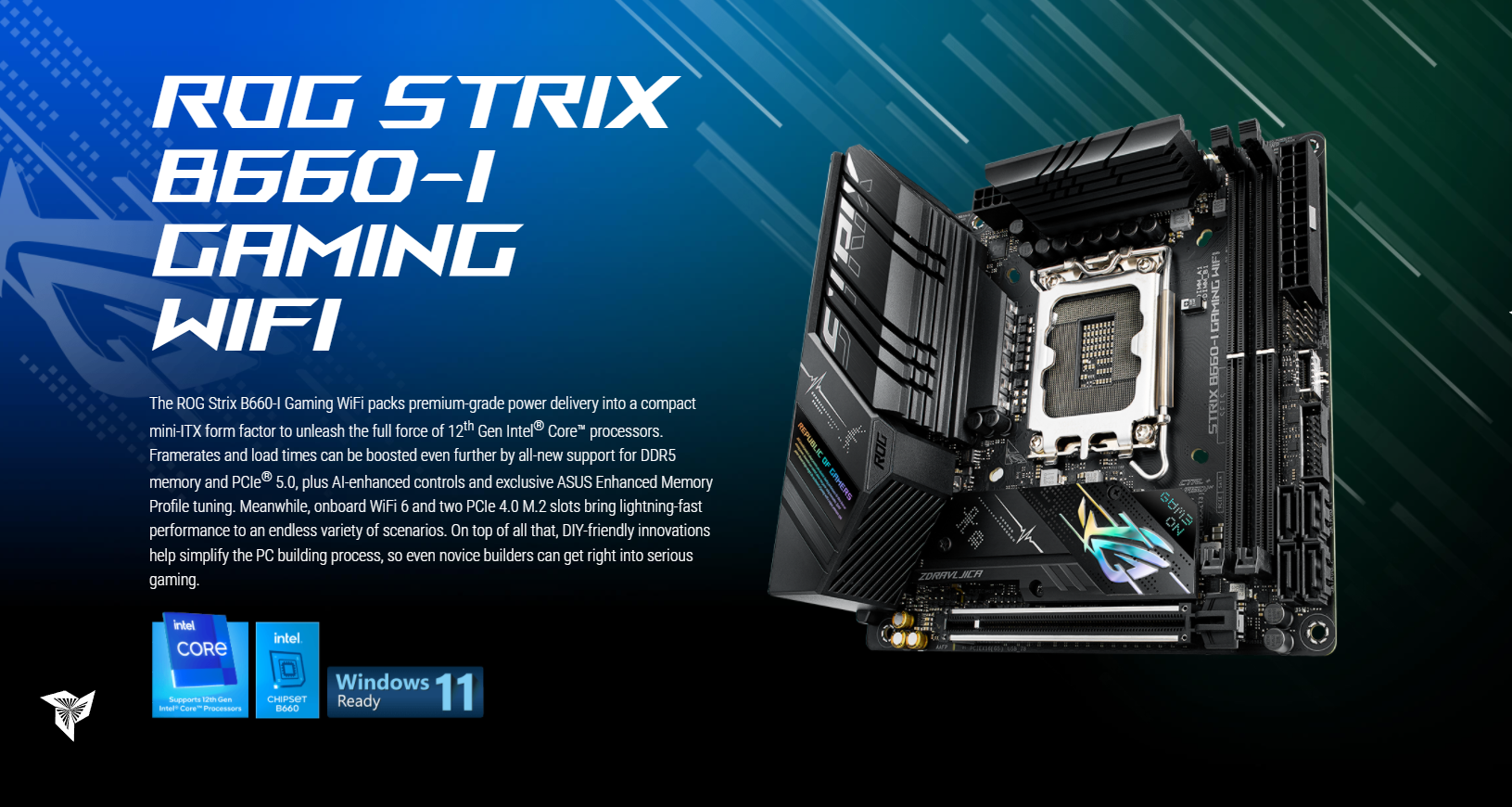 The ROG Strix B660-I Gaming WiFi packs premium-grade power delivery into a compact mini-ITX form factor to unleash the full force of 12th Gen Intel® Core™ processors. Framerates and load times can be boosted even further by all-new support for DDR5 memory and PCIe® 5.0, plus AI-enhanced controls and exclusive ASUS Enhanced Memory Profile tuning. Meanwhile, onboard WiFi 6 and two PCIe 4.0 M.2 slots bring lightning-fast performance to an endless variety of scenarios. On top of all that, DIY-friendly innovations help simplify the PC building process, so even novice builders can get right into serious gaming.
TEAMED POWER STAGES
8+1 power stages combine high-side and low-side MOSFETS and drivers into a single package, delivering the power and efficiency that the latest Intel processors can take full advantage of.
ALLOY CHOKES AND DURABLE CAPACITORS
High-end chokes and durable capacitors are engineered to resist extreme temperatures, enabling performance that exceeds industry standards.
PROCOOL POWER CONNECTOR
The ASUS ProCool socket is built to exacting specifications to ensure flush contact with the PSU power lines, enabling lower impedance and better heat dissipation.
DIGI+ POWER CONTROL
The Digi+ voltage regulator module (VRM) is one of the finest in the industry, ensuring ultra-smooth and clean power delivery to the CPU.
EIGHT-LAYER PCB
A multi-layered printed circuit board design quickly dissipates heat around the voltage regulators to improve overall system stability and provide the CPU with more overclocking headroom.
DDR5 overclocking strength
Comprehensive memory tuning options are the cornerstone of ROG motherboards. For DDR5, ROG Strix B660-I Gaming WiFi breaks performance limits by providing a stacked suite of overclocking parameters for not only high-speed kits, but even entry-level memory modules that have a locked power management IC (PMIC).
A dedicated circuit on the motherboard safely circumvents DDR5 memory PMIC restrictions, allowing you to step past the default 1.1-volt limit and push frequency and timings to the max.
Ordinarily, a restricted PMIC that has been unlocked requires the system to be fully power-cycled each time memory voltage is adjusted. ROG motherboards leverage onboard hardware and firmware to cleverly work around this irksome limitation, enabling voltage adjustments to be applied through the same soft system-reset process employed for previous generations of DDR memory.
For users new to memory overclocking, ROG Strix B660-I Gaming WiFi includes the exclusive ASUS Enhanced Memory Profile (AEMP)* firmware feature for PMIC-restricted memory modules.
PCIe performance
ROG Strix B660-I Gaming WiFi features two onboard M.2 slots, both of which supports wickedly fast PCIe 4.0 drives for provide maximum storage flexibility and lightning-fast data speeds available with the latest Intel processors.
UNDENIABLY ROG STRIX
The stealthy black aesthetic of ROG Strix B660-I Gaming WiFi is complemented by an iridescent ROG logo on the M.2 heatsink cover, touches of pixelated retro gaming art, and an understated but stylish Strix nameplate on the I/O shroud.